Appointments
Our appointment book is computerized which allows us to efficiently make appointments for you and your pet. Our team will attempt to accommodate all requests to the best of our ability. Please call us or use our online form if you need to schedule an examination, surgery, or boarding stay for your pet.


Emergency & Urgent Care
We have a veterinarian and personnel on duty 6 days a week who are trained and equipped to handle any urgent care your pet may need. Emergencies can be things such a rat bait poisoning, hit by a car, or chocolate ingestion. If you ever feel that your pet needs emergency treatment, do not hesitate to call or come in immediately. If possible, it is best to call before coming so that a team member can advise you on emergency care and transportation.


Types of Pets Seen
The doctors at Oakcrest Pet Hospital care for the following types of pets:
Dogs
Cats
Rabbits*
Rodents*
Reptiles*
Ferrets*
Birds*
*Select veterinarians. Please call for availability.
Types of Services
We offer a wide range of services. Click on the links below to learn more!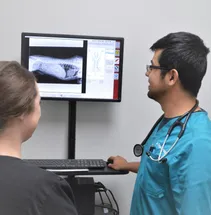 Please call us if you have additional questions about specific procedures or services.




Payments
We accept payment via cash, check, MasterCard, Discover, Visa, Care Credit, or ScratchPay. We request that payment be made at the time services are rendered.
You are welcome to request an estimate for services at any time during your visit.
Discounts
We offer discounted services to select local area rescue groups. Pre-approval is required to qualify for the rescue group discount. Please call us for more information.